I am a huge fan of these great new workbooks by Compendium. I bought two of them over the weekend at Fireworks. I have said that I won't have one of those blogs where I just show you pictures of things I love, but I can't resist these. Don't worry...I will tie it into something.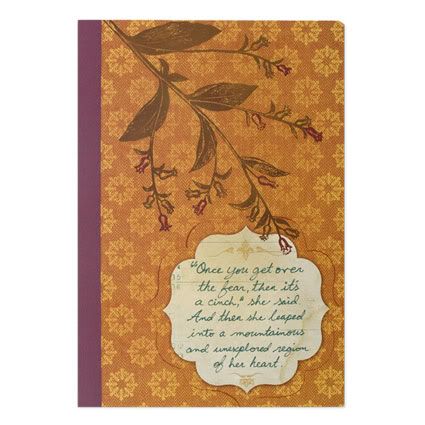 This one says..."'Once you get over the fear, then it's a cinch,' she said. And then she leaped into a mountainous and unexplored region of her heart." This statement reminded me of my commitment to this month...to Fearless April.
April has always been a time of rebirth for me. I have had a lot of new beginnings and jump starts to my life in this springtime month. So what about the other months? Well, I have decided that change, evolution, and progress should not be reserved for one month out of the year. I have created nicknames for each of the months in my calendar year to help remind me and inspire me to always strive for more. I will keep track of each monthly goal in the workbook above. My journal keeps my hopes and dreams, but this workbook will keep score and the proof that fear will not hold me back and that joy will push me forward.
Make Every Day Count:
New Beginnings January
It's All Possible February
Bold & Brave March
Fearless April
Confident May
Rejuvenation June
Joyful July
Adventuresome August
Daring September
Outgoing October
Never Say Never November
Delightful December
I encourage you to find what inspires you...to set your goals for the present and future...to set the foundation and plant what motivates you. Be authentic. Be joyful. Be you.